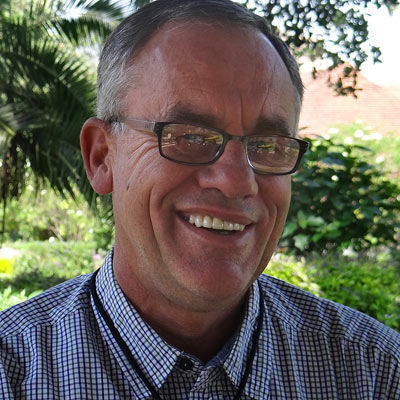 H. Jurgens Hendriks
Curriculum Vitae
H. Jurgens Hendriks
Position: Professor in Practical Theology and Missiology, emeritus. Faculty of Theology, Stellenbosch University.
Academic qualifications: B.A., M.A., B.Th., Licenciate (all cum laude) D. Litt.
Work experience: Minister Dutch Reformed Church (1974-1984); Senior Lecturer Faculty of Theology, University of Stellenbosch (1985-98), Associate Professor 1999-02; Chair: Dept of Practical Theology and Missiology (2000-2007); Professor 2003-. Executive Director: Network for African Congregational Theology: 2000 – 2014. Since 1999 I have been working and teaching in many African countries on a regular basis, several times every year.
Specialization and tutoring and research: Congregational studies, evangelism, missional church development, HIV&AIDS and Gender Curriculum Development; church demographics.
Doctoral studies: Stellenbosch & Edinburgh (Scotland) in Old Testament; Postdoctoral studies at Emory University (Atlanta GA) & Western Theological Seminary (Holland MI). Visiting lecturer at Princeton Theological Seminary 2004 conducting a Ph D seminar "Doing missional theology in Sub-Saharan African faith communities."
Publications:  Books 12; Chapters in books 20; Accredited articles 91.
Study leader:  M Th: 120 (M Th still enrolled 2), D Th 29 (still enrolled 2); External Examiner doctoral degrees: 22.
Local and international conferences where I gave papers: National: 16; International 33.
Achievements: 1997: vice-chancellor's award for excellence in tutoring. South African National Research Foundation grant holder with RESEARCHER RATING: (2003-2018) 
Memberships: Religious Research Association (USA); Society for Practical Theology in SA; Trustee of the Unit for Religious & Development Research, University of Stellenbosch; Member Gospel and Our Culture SA Network; Consultant to Justo Mwale University, Lusaka, Zambia; Board Member Alpha SA; Advisor: Willow Creek Association SA. Executive Board Member ALICT (African Leadership Institute for Community Transformation). 2004: Guest Professor Princeton Theological Seminary, NJ VSA. 2006- Practice Advisor to the Search Institute, St Paul MN, USA (Research benefitting Children & Youth) 2006; ACTEA (Accreditation Council for Theological Education in Africa) Review Panel member. ACTEA Advisor  Member 2013-; Theological Committee of the World Communion of Reformed Churches, 2011-2017. Founding member & Executive Director: Network for African Congregational Theology (1999-2014); 2015- NetACT program coordinator.